GCSE successes 2019
As GCSE results are announced across the country today, Regent High School is celebrating the excellent performances of students in this year's examinations. The results will enable students to access a wide range of courses for post-16 study, providing a firm foundation for success as they progress to Regent Sixth Form or elsewhere to study a variety of A Level, BTEC National and Cambridge Technical courses.
Stand-out individual performances include:
Diana Vorona, who previously attended St Michael's C of E Primary School (Camden Town), achieved a brilliant four grade 9s (higher than an old A*) in English Language, Geography, History and Russian, three grade 8s (equivalent to an A*), three grade 7s, and one grade 6;
Faziha Begum, formerly of Edith Neville Primary School, achieved a grade 9 in English Literature, six grade 8s, two grade 7s and 1 grade 6;
Abdulrahim Bare, who joined Regent High School in Year 8, achieved a grade 9 in Business Studies, six grade 8s, one grade 7; one grade 6 and one grade 3;
Ramin Shah, who attended Argyle Primary School, achieved grade 9 in English Language and Geography, four grade 8s, one grade 7, one grade 6, one grade 4 and one grade 2;
Zahara Matin, who went to All Souls' CE Primary School, achieved grade 8s in English Language and Food Technology, seven grade 7s and a grade 4.
A total of 14 grade 9s – the highest grade possible in the revised GCSE grading system – and two A*s were awarded to Regent High School students in subjects including Business Studies, English, Geography, History, Mathematics, RE and Spanish.
Diana Vorona said that the teachers at Regent High School had 'given a lot of support' and that 'it is personal for the teachers. They truly, truly care for the students… and want them to do their best'. Diana will join Regent Sixth Form to study A Levels in French, Geography and Sociology, and gave the following advice to younger students: 'Start revising from September in Year 11. Work SMARTer, don't stress and always take care of yourself. Don't sacrifice your sleep!' Faziha Begum said that the staff at Regent High School are 'very supportive' and 'accommodate students' needs to the fullest, providing extra help when needed'. Faziha will be studying A Level Biology, Chemistry and Psychology at Regent Sixth Form in September.
Gary Moore, Headteacher, said of the results: 'I am extremely proud of the dedication and commitment shown by our Year 11 students this year, and I am delighted to be able to congratulate them on their excellent results. I would also like to acknowledge the hard work and support of our devoted and enthusiastic staff who have supported our students through consistently high quality teaching. These results show our students' strong progress, regardless of their starting points, and prepare them for success in the future.'
Headteacher, Mr Moore, and Diana Vorona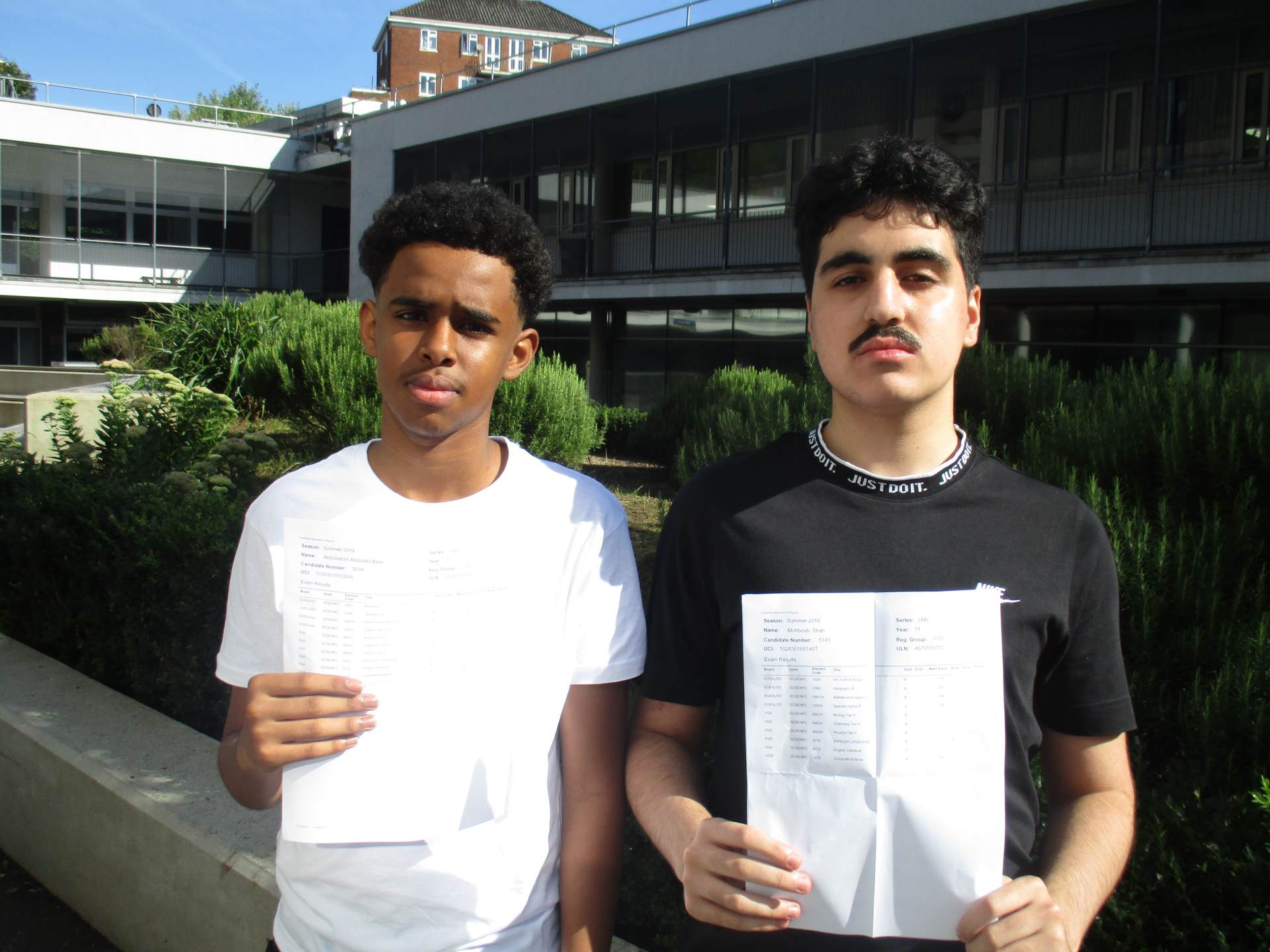 Abdulrahim Bare and Ramin Shah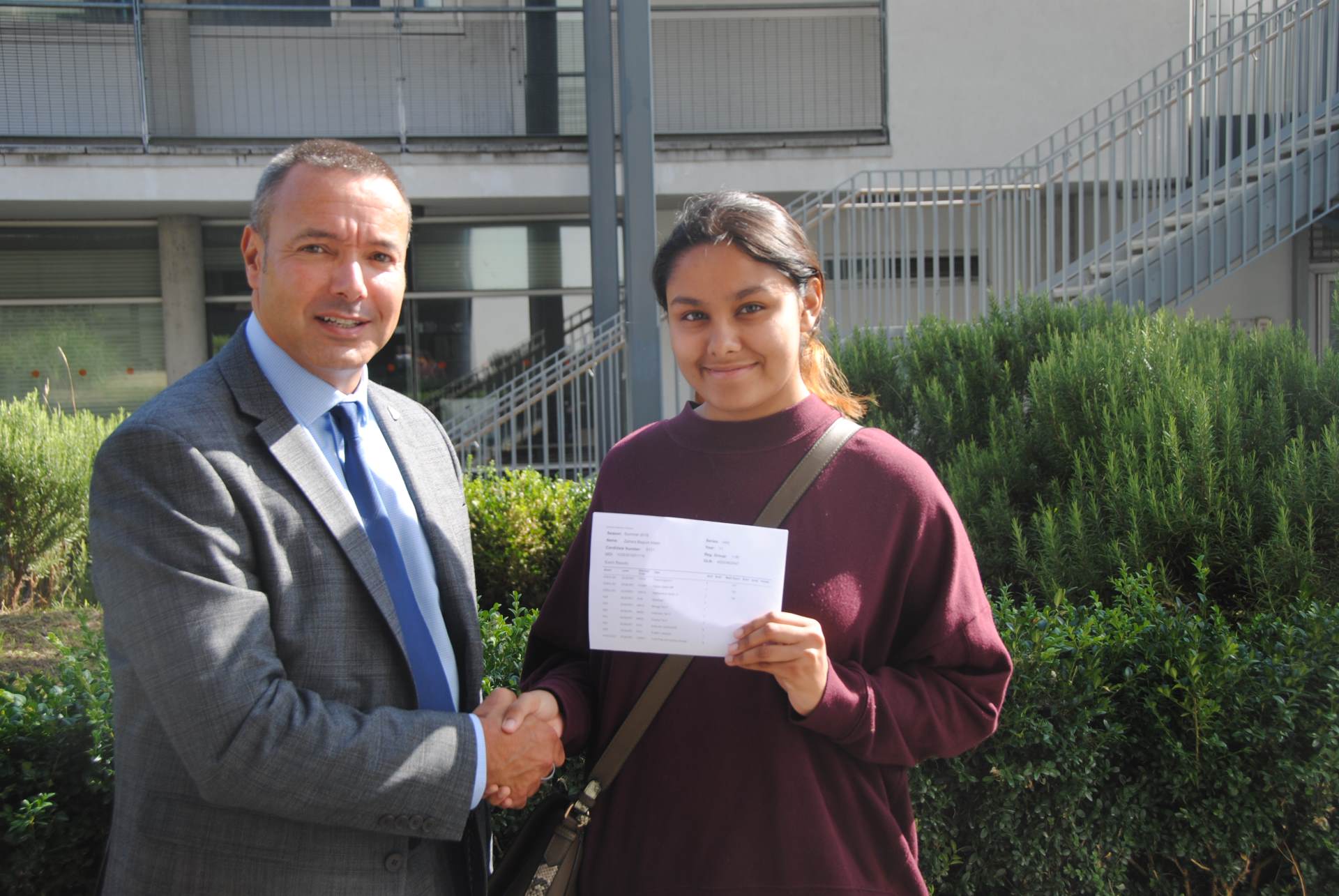 Mr Moore, Headteacher, and Zahara Matin